Enter heading here…The Fancy Name: 1.2.2 Captions (Prerecorded) – Level A: Captions are provided for all pre-recorded audio content in synchronized media, except when the media is a media alternative for text and is clearly labeled as such.
This one is pretty easy to understand, so we'll spend more time understanding actionable things you can do to be compliant on this mandate. Many people experience auditory difficulties that necessitate captions. So we can simply add subtitles to video (e.g. captions). Easy enough, right?
How to Add Subtitles to Video
Let's start with three main ways to add subtitles to video. For the sake of brevity, we'll focus on adding them to YouTube. However, similar approaches can also be done with Vimeo and other leading video platforms. You'll find the subtitle option in your YouTube settings under Video Manager > Videos. Simply select "Edit" on the video you want to add the subtitles to, and you'll see a screen similar to the one below: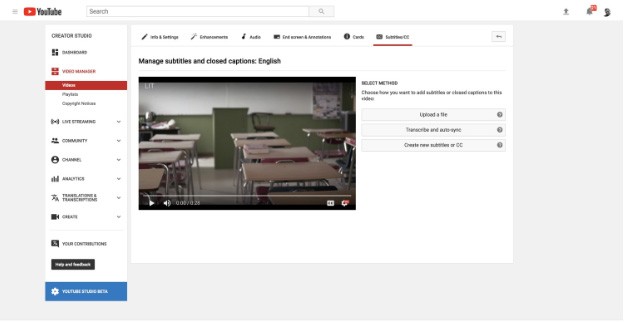 1. Most accurate: add them via a file.
There are many different different file formats that YouTube supports. SubRip, SubViewer, MPSub, and LRC. If you're just beginning, try either SubRip or SubViewer. These can be edited in any basic text editor (e.g. Notepad). The format is really straightforward.
1
00:00:00,000 –> 00:00:04,160
>> JONAH: My name is Jonah, and I love sloths!
2
00:00:04,160 –> 00:00:06,770
>> BRITNEY: Well, who doesn't love sloths?
3
00:00:06,770 –> 00:00:10,880
>> JONAH: Only people that don't have souls.
4
00:00:10,880 –> 00:00:16,700
[intro music]
5
00:00:16,700 –> 00:00:21,480
BRITNEY: I know, right?!
2. Medium level of accuracy: type the text, and have YouTube auto-sync.Enter heading here…
How convenient and wonderful is this? All you need to do is type out what's said in the video, and the smart little goblins inside YouTube will automatically sync your text to the video. This won't be as perfect as the above method but this is still an effective way to provide subtitles to video: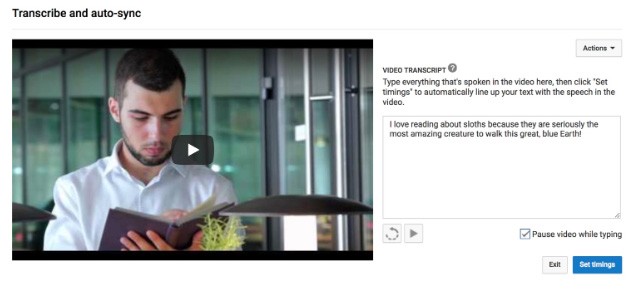 3. Least accurate: YouTube automatically does it all.
If you're not an awesome person (and we know you are!), then there's an option just for you! Instead of taking time for an accurate representation of captions/ subtitles, you can simply have YouTube create the subtitles automatically based upon their voice recognition software. However, think about how many times Siri/ Alexa doesn't know what the heck you're saying? I speak quickly, I mumble from time to time, and will have a stutter after a couple glasses of wine. Machine speech recognition is awesome, but it's not 'quite there' just yet. This option is better than nothing, but I suggest taking a few moments to use one of the above two methods.
Or just hire someone to add subtitles to video
​In this world of on-demand services, you can cheaply outsource this task to willing and competent people. Services such as Rev.com will do it for $1/ minute with a 24 hour turnaround time. Check them out here (disclaimer: we refuse any kickbacks for any recommendations/ affiliate links, so this comes from my dear, dear heart).